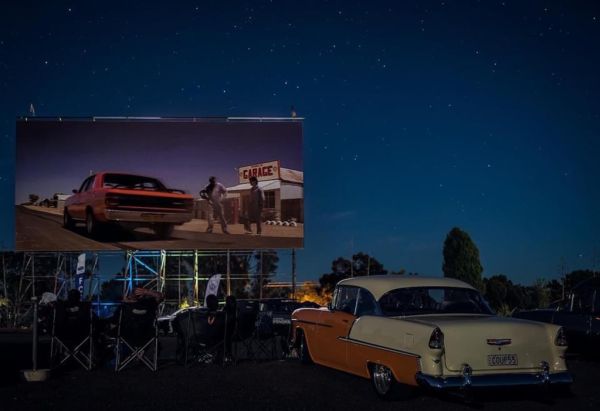 A shot in the arm: Pandemic leads to a drive-in cinema resurgence
COVID-19 hasn't benefited much of the arts industry, but it has lifted the curtain on one almost-forgotten sector – drive-in theatres.
Suddenly, there's little entertainment that feels as safe as watching a movie from the privacy of your own car, or from a picnic rug spread on the ground nearby in an otherwise empty field under a wide sky.
"People love sitting in their own little capsule watching a film, or sitting in front of their cars with a tradie radio, with so much land around them," said Jason Yelverton, the operator of the Westview Drive-In Theatre in Dubbo in western NSW.
"Drive-ins are really built for something like this pandemic. You have your own space and you have the sky and can see amazing sunsets and the moon and it's such a beautiful, happy thing."
[dm-listing-recommendation experimentname='midcontent-listings' positiononpage='midcontent']

The virus has led to a resurgence of interest in drive-ins around the world, and now Dubbo's own little slice of the past – which opened in 1970 with a showing of Clint Eastwood's war movie Kelly's Heroes and room for 550 cars – is back in the public eye.
Although the cinema (now allowing a COVID-safe 250 cars) and the 9.78 hectares of land that surrounds it has been quietly for sale for around 20 years, a new campaign has now been launched to find a buyer.
That could be a film buff interested in keeping the place going, a businessman who wants to use the land for industry, or someone happy for both to operate side-by-side.
"There's a rare opportunity there for somebody," said Mark Searle of the Dubbo Real Estate Agency, who's selling the light industrial-zoned land, and everything on it, for $2.9 million.
"A bigger company could come in and turn it into a real outdoor event and function hub, or could subdivide it into industrial blocks and create an industrial park or make money from selling them.
"The drive-in is well-loved in Dubbo and people would be sad if it went, but Dubbo has seen a lot of change and a lot of development over the years. It could stay – or it could go."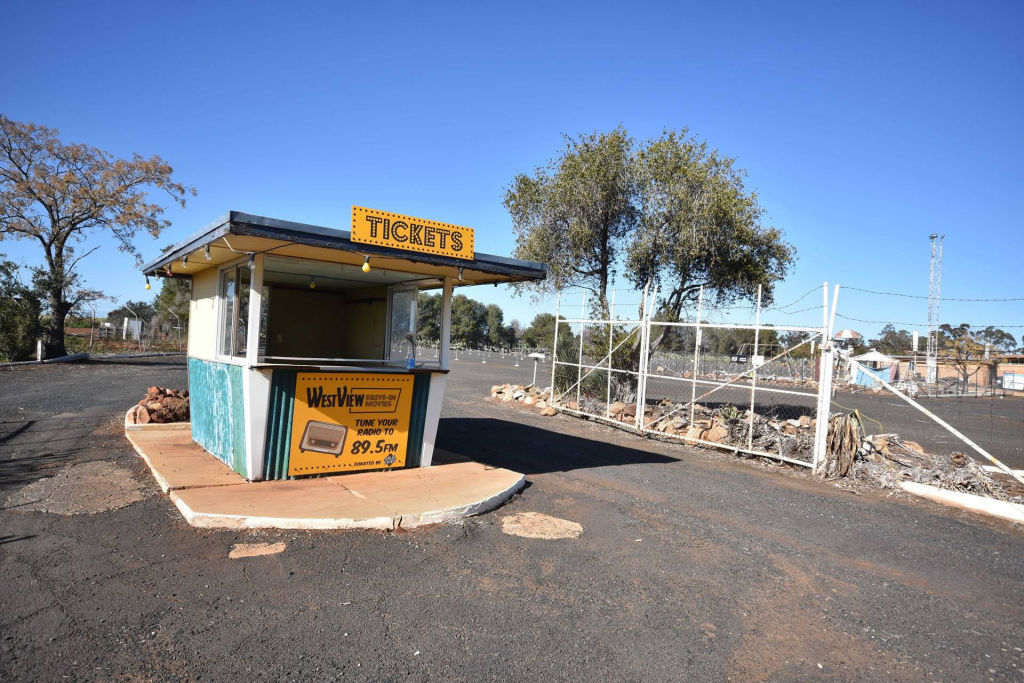 The Westview, one of only three drive-ins left in NSW, and of 17 in Australia as a whole, has a past as poignant as any of its movies. The cinema closed in 1984, then was bought by the local Comerford family in 1986 who planned to build an industrial shed next to it.
"We planned to run a business around the drive-in site, but for various reasons the shed was never erected," said Ken Comerford.
The cinema operated again briefly but closed in 1987 after a final showing of La Bamba. It then lay empty for 30 years until a 12-year-old boy suggested to youth worker Mr Yelverton that they should think about re-opening it.
"It looked as if it was going to take a hell of a lot of work as it had been closed so long, but the beautiful thing was that the whole community got behind it," said Mr Yelverton.
"Local builders and plumbers and building stores and people wanting to donate their products and time all came together in a series of working bees, and I was out there from sun-up to sundown most days and weekends, and eventually we did it. It became a very special place."
The Westview Drive-In Theatre eventually reopened for Youth Week in April 2017 and, since then, has operated regularly, with special events, charity nights and regular movies.
The clientele has ranged from older people reliving their memories to a whole new generation discovering the delights of watching a movie from the back seat of a car, or from a picnic blanket spread on the ground – with the COVID-19 pandemic providing a real shot in the arm for the business.
It's a similar story to what's happening throughout Australia, and further beyond.
"At the moment, drive-ins are absolutely booming," said David Kilderry, a drive-in historian and joint managing director and owner of the country's biggest drive-in, the four-screen Lunar Drive-in Theatre in Melbourne's Dandenong.
"Because of COVID, we're doing better business than many multiplexes around Australia.
"Customers are more comfortable sitting in their cars or outside than inside a theatre. While 2019 wasn't so good for us, 2020 was fantastic. Already I'm hearing of new proposals for drive-ins and some of the other cinemas are casting their slide rules over the idea to see how they stack up."
Although drive-ins hit their heyday in Australia in the early 1980s, when there were around 350 in existence, the current 17 could easily increase. Advances in technology mean that it's now easier to operate pop-ups with inflatable screens, and that's being explored nationally, too.
In the US, that's already happening.
Nick Hensgen, who operates DriveInMovie.com from his base in Kentucky, says that while so many regular theatres and entertainment venues have closed, drive-ins are flourishing.
"There's been a huge resurgence of interest in them," he said. "A lot have had their best years in a decade, and we've had three or four new ones opening this year in addition to the approximately 330 already operating – down from almost 4000 in the mid-1960s.
"COVID feels like the right time to open new ones. We're seeing people go back to them who haven't been there for 20 to 30 years, and families loving it as an inexpensive form of entertainment. It's wonderful to see."
As for Jason Yelverton, he just hopes any new owner of Dubbo's iconic Westview Drive-In on the Mitchell Highway and close to the busy Dubbo Airport will allow it to keep going, with its audience drawn from all over NSW and Australia.
"It's such a happy, positive place and has given a lot of young people opportunities," he said. "It would be wonderful to see it continue."
[dm-listing-recommendation experimentname='below-content-listings' positiononpage='belowContent']
Keep up with Commercial Real Estate news.
Keep up with Commercial Real Estate news.