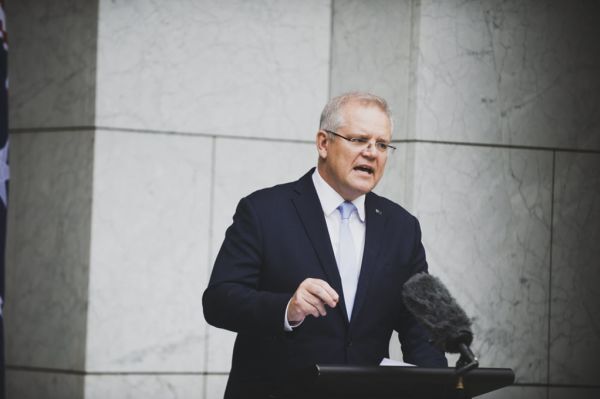 'A burden for everyone to share': Scott Morrison holds out hope of some rent relief for businesses
Commercial tenants could be thrown a lifeline by the Federal Government, which is planning a third tranche of stimulus measures to help them go into "hibernation" for a period to survive the coronavirus crisis.
Prime Minister Scott Morrison announced on Friday, March 27, that the coming plan, set to be announced within days, will mean many businesses will go into shutdown but emerge without being so "saddled by debt and rental payments and other liabilities that they won't be able to open on the other side".
There is speculation that he's foreshadowing rent moratoriums for commercial tenants as well as the lifting of many normal payments to help them bounce back when the nation emerges from the disaster.
But Mr Morrison said it is too early to go into any detail.
[dm-listing-recommendation experimentname='midcontent-listings' positiononpage='midcontent']
"I today wanted to set out what the objective was," he said. "There will be a burden for everyone to share. And that will include the business as well as landlords who will suffer. The banks will have to make arrangements with them.
"Whether councils are involved in providing waivers on rates, things of that nature … will be something states work through. Whether land tax will be relieved for those who have tenants in a distressed situation … all of these are what we are working through. It isn't simple."
His promise of more help for commercial tenants to come follows NSW's second $1 billion stimulus package released earlier in the day, with deferrals of rent in government-owned buildings for commercial tenants with fewer than 20 employees.
It also includes a deferral of payroll tax for six months for businesses with payrolls over $10 million, and an extension of the three-month waiver to six months, for businesses of less than $10 million.
Pubs, clubs, hotels and lotteries will, in addition, receive a deferral of gaming tax for six months – if the income is used to help them retain staff.
The state government package has already been attacked as too little too late.
"It doesn't do much for commercial tenants at all," said Peter Messenger, principal of ResolveXO. "How many people rent from government? Not that many!
"They haven't gone near the piggy bank of land tax yet, and do these latest measures mean they're going to give up things like the Barangaroo Development Levy or ground leases? That wasn't very good for commercial tenants at all; I don't see much assistance coming from the state government, and nothing encouraging landlords to help any tenants …"
It's also been slammed as not helping businesses' cash flow, one of the major concerns. "Most are just in survival mode, trying to reduce staff costs and costs in any areas that don't generate direct revenue," said Philip Reichelt of Tenant Leasing Group.
"I think everyone's hanging out for government to give them some clear direction about commercial rents, whether a moratorium or abatements."
With April 1 fast approaching, when most commercial tenants have to pay their next month's rent in advance, many will be disappointed that Mr Morrison's much-hyped announcement went into no detail about support for commercial tenants to enable them to keep going.
When asked how the business package will work with the stronger health measures, Mr Morrison said, "We want to ensure that as far as practicable that we continue to pursue this both from the health point of view and ensuring we minimise the impact on people, particularly economically, and we do understand the need to try and keep these things as close together as we possibly can."
Mr Reichelt said he felt the Prime Minister was on the right track when he outlined the shared nature of the responsibilities. "Everyone is in this together, and he was right to say that," he said. "In these times commercial tenants do have obligations but not on terms set in a completely different environment. They can't be expected to meet them in these conditions.
"There's more he's going to talk about later. And we look forward to that."
But Mark Lockwood, director of transaction management at Tenant Representation Services, said he felt fresh measures to come along with hibernation are unlikely to be laid down for everyone.
"I don't believe it's going to be a generic pattern," he said. "Any relief, like rent relief, will be done on a case by case basis, as some companies are still doing well.
"Tenants will have to talk to landlords and will have to justify their individual case for rent relief, and be very specific about it, beyond the fact that times are bad."
And rent relief for commercial tenants is simply most unlikely in the full package that will be released later, believes Steve Urwin of Kernel Property. "Commercial leases are very different to residential leases, which tend to be pretty standard," he said. "I can't see the government mandating any form of rent relief.
"But having seen what the UK government has done, which seems to be a moratorium on evictions for commercial tenants before June 30 – and which could be extended till later – I feel that will be something we will see here too."
Others in the industry also say the government would be wise not to legislate blanket changes, but look at cases individually, too. Mr Messenger said he knows billion-dollar companies that are doing well and plainly don't need any help with rents, as well as plenty of companies that are in need.
"Until the government puts some meat on the bones, we can't assess what they plan to do," he said. "But the thing that people have to realise is that these landlords are not like greedy Scrooges, sitting there with a vault full of money.
"They've invested in the premises and they have investors like the superannuation funds which are owned by mums and dads, while those tenants have contractual obligations to pay rent and I can't see the government is going to step in with rental money to pay those rents in their place …"
[dm-listing-recommendation experimentname='below-content-listings' positiononpage='belowContent']
Keep up with Commercial Real Estate news.
Keep up with Commercial Real Estate news.