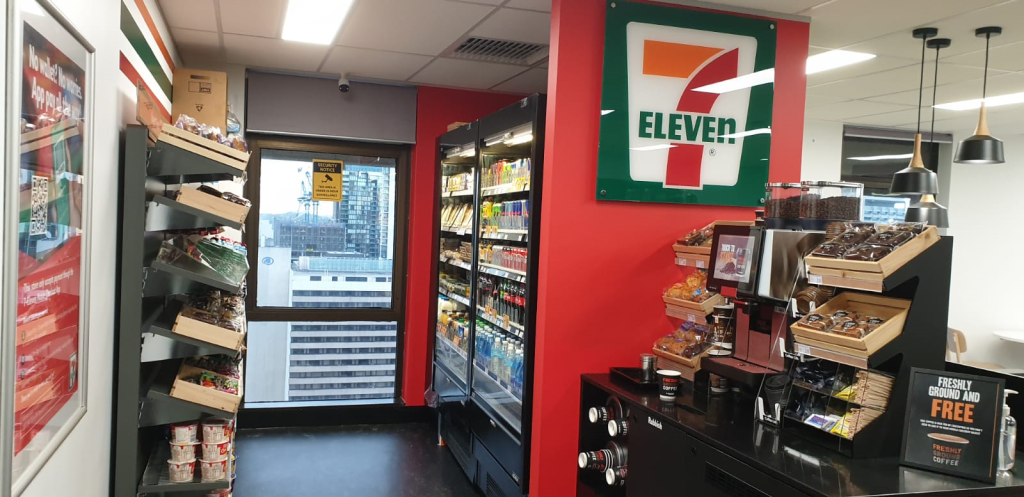 7-Eleven opens mini store on 27th floor of Brisbane office tower
Workers in one Brisbane CBD building won't even need to leave the building to grab a 7-Eleven pie, coffee or even a Krispy Kreme doughnut, with the convenience store king opening a pilot high-rise micro store exclusively for use by employees within the building.
The eight-square-metre pilot store has been set up on the 27th floor of 288 Edward Street, home to business services firm Concentrix. It's the first of its kind to operate outside of 7-Eleven's own offices.
The new store is not open to the public, but accessible only to company employees.
"This store is available 24/7 to the employees of the site only. They scan their own products using our mobile checkout app, then process their payment directly from the phone. There's no queuing, no register, and it's 100 per cent digital and contactless," said 7-Eleven chief executive and managing director Angus McKay.
The store's pared-down product list includes coffee, sandwiches, sushi, salads and a select range of Krispy Kreme doughnuts and will be adapted based on customer feedback.
It is operated in partnership with franchisee who owns a standard store nearby – employees of the nearby store visit the office at least twice a day to replenish stock and clean and fill the coffee machines.
Mr Mckay said the store was the natural evolution of the cashless and cardless store it had been trialling in its own Melbourne office.
"We're interested in testing this format in different contexts. The site in Brisbane is on the 27th floor of a building in the CBD. Operating in a location like that has its challenges, which was part of the reason for selecting it," he said. 
The trial of a store where customer interaction is nonexistent seems particularly fortuitous at a time when workplaces throughout the country are becoming increasingly conscious of reducing contact points that may transmit COVID-19.
"As the offer is available to the building's tenants only, not the general public, in the current environment it provides building occupiers with a solution that is within their controlled space where their COVID safety protocols are in place," Mr McKay said. 
"I think many leaders will be thinking about what their workplaces need to be in the COVID-normal world. Having a self-serve offering that is within your controlled space has potential to be incredibly convenient for team members on site. Digital-enabled convenience, including formats like this store in Brisbane, is going to continue to be key to our plans for the future."
The location of the pilot store was chosen because of 7-Eleven's existing connection to Concentrix.
"Concentrix is the parent company of one of our partners, Tigerspike. The team at Tigerspike have been key partners in the development of our mobile checkout app so it made perfect sense for our microformat store to be the solution installed in Concentrix's Edward Street office," Mr McKay said. 
Get a weekly roundup of the latest news from Commercial Real Estate, delivered straight to your inbox!