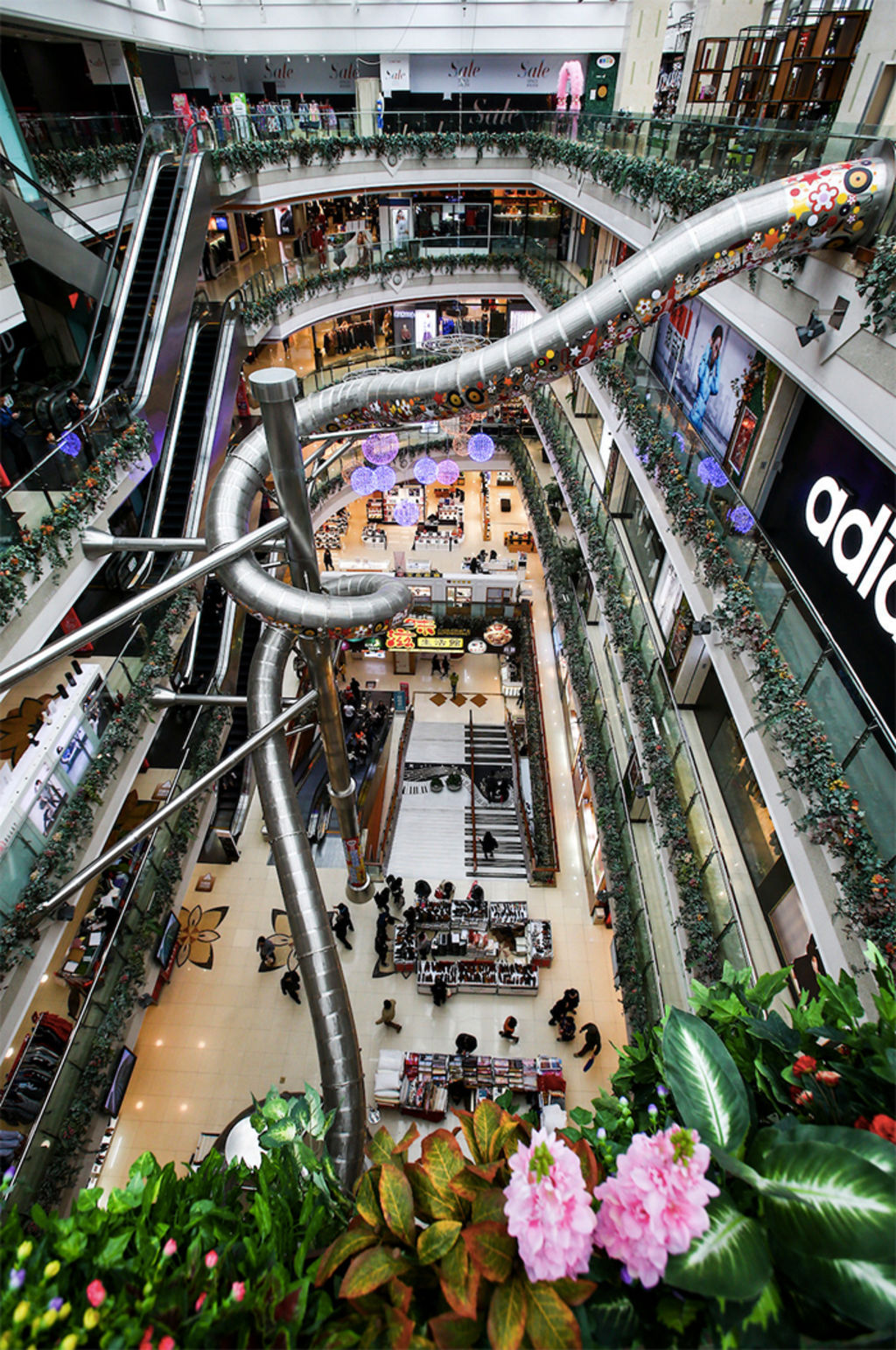 10 of the world's most absurd shopping malls attractions
From gondola rides to skiing, there's plenty more to do in these shopping malls, than, well, shop.
A gondola ride in Doha
The Villagio​ Mall in Doha, Qatar, is  rather absurdly designed to look like an Italian hill town. And, pushing that Italian theme to the max, it is also home to Gondolania, a themed area that hosts a go-karting track and bowling alley. It also has little canals running through it, complete with gondoliers. It's just like Venice, honest. See gondolania.com.
Modelled on the historic Galleria Vittorio Emanuelle II in Milan, Houston's Galleria mall makes a big play of its massive barrel-vaulted glass roof. But it's what's on top of the roof (mercifully not the glass bit) that makes it a bit different. Anyone wanting to lose a few pounds while spending a few dollars can take to the open-air track, huff around for a bit, then go back to the shopping. See simon.com/mall/the-galleria.
Take in a fashion show in Las Vegas
Las Vegas Fashion Show Mall. Photo: Getty Images Vegas' Fashion Show Mall in the US does exactly what the name implies. Instead of being a place where you simply browse and buy fashion, there's a 24-metre  retractable runway that models strut up and down each weekend. The fashion shows are a step up on mannequins, and the clothing is all available in the surrounding shops. See thefashionshow.com.
A five-storey slide in Shanghai
The five-storey-high giant winding slide at the Printemps shopping centre, Shanghai. Photo: AP The Printemps shopping centre in Shanghai, China,  has recently unveiled a rather radical alternative to lifts and escalators. A snake-like slide has been plonked in the middle, spiralling down for five floors, and big kids are being encouraged to take on the 16-second ride through the giant metal tube. A  strict one-at-a-time policy applies  to avoid mid-air pile-ups.
Ride a rollercoaster in Istanbul
Istanbul's Cevahir mall, in Turkey, has the expected additions – a 12 cinema screens and a bowling alley – and then there's the rollercoaster. With carriages painted to look like a grinning shark, it whizzes around multiple levels, albeit at a fairly sedate pace. 
The fun park in Bloomington
The Mall of America just outside Minneapolis-St Paul has a full-blown theme park. Nickelodeon Universe has 27 rides, many of which are aimed at kids. But then you've also got the likes of the SpongeBob SquarePants Rock Bottom plunge, which opts for multiple stomach-churning upside-down loops and twists. The mall also has America's longest indoor zipline, a wedding chapel and a glass tunnel walk-through aquarium, with numerous varieties of sharks, sea turtles and sting rays. See mallofamerica.com.
Ice skating in Manila
The Philippine's enormous SM Mall of Asia, on the outskirts of Manila, attracts around 200,000 shoppers a day. And, to keep them entertained, some rather unusual extras have been thrown in. There's a 55-metre ferris wheel outside and a 16,000-seater basketball arena inside. And then there's the  Olympic-sized ice rink, the largest in South-East Asia, which operates year-round in one of the most persistently sweltering cities on earth. See SMMallofAsia.com.
The Mall of the Emirates in Dubai has gone one better by including a 22,500 square metre indoor ski resort. There are five separate slopes on the 85-metre high "mountain", one of which has a black diamond run. Temperatures are kept just below freezing all day, and each night fresh snow is made to keep up the winter wonderland mirage. See theplaymania.com/skidubai.
Hit the beach in Atlantic City
The sea's just outside but the good folk at the Playground mall at Caesar's in Atlantic City hashave spread some sand out by the big, super-long window on the third floor, and plonked down some deck chairs so people can pretend they're at the beach and stare out at the sea. It's almost as if it's not quite beach weather in New Jersey for most of the year. See Caesars.com.
Surf and shop in Edmonton
Canada's West Edmonton Mall goes the whole hog on the gimmick front. There's an ice rink, aquarium, theme park, mini-golf course and a Bitcoin ATM. But most remarkable of all is the 20,000 square-metre World Waterpark featuring the world's largest indoor wave pool, which pumps out two-metre high waves while a series of slides – some 25 metres high – splash down into it. See wem.ca.