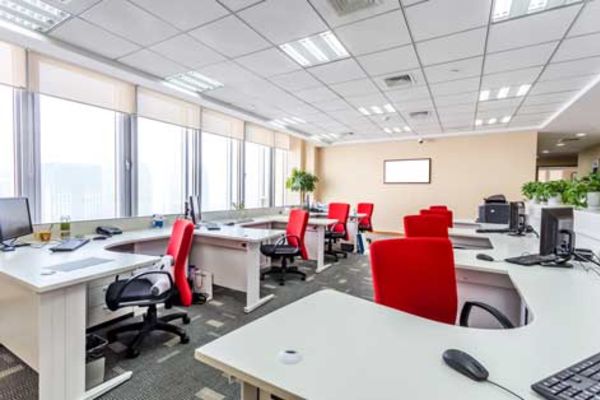 Getting more from your workplace design
Whether you're a business owner looking to spend money wisely or you're making the case for a budget to rejuvenate your workspace, it's important to know which features are going to make a difference to productivity and profits.
1. More than just a facelift
Although some companies are moving towards remote working for staff, most Australians still spend many of their waking hours in a workplace. Using sound interior design principles to transform work environments into comfortable and productive workspaces is becoming a priority for almost any business that wants to boost staff retention and performance.
2. The workplace shopping list
So, can a coffee machine, expensive chairs and a handful of plants really make a difference to how staff feel and act when they're at work?
[dm-listing-recommendation experimentname='midcontent-listings' positiononpage='midcontent']
"Productivity mostly comes down to getting the ergonomics, light and acoustics right," says Damien Mullvihill, founder and owner at DesignOffice, a Melbourne-based architectural and interior design practice specialising in workplace design. "So you'll need to give a nod to all these elements in your workspace plan and budget."
Mullvihill gathers information from his clients before drawing up a shopping list to meet these basic needs.
"We have a pretty extensive checklist, covering things like how many photocopiers you'll need, do you get many visitors, how many desks and staff, what kind of equipment, where does the noise come from and so on?" says Mullvihill. "Questions about open plan versus private workspaces also need to be addressed. In some companies, open spaces are valued because mentoring and learning experiences take place when junior staff are included in day-to-day conversations with their managers."
3. Fostering the right culture
Considerations of values and working practices need to be taken into account in the planning and design process.
"At DesignOffice we bring all the important architectural principles to each project, but it's the client's values that really shape the outcome," says Mullvihill. "If you've got staff who are on board with the company's philosophy and approach to doing business, the best way to make them feel comfortable and engaged is to create an environment that reflects what they stand for."
4. Let there be light!
Simply having the right combination of environmental factors in the workspace won't necessarily make people more productive. But many interior designers agree that light is critical for keeping performance high throughout the day. Some of the most sophisticated office lighting systems in the world will constantly monitor light levels and adjust them for comfort. They'll even be set to boost lighting in the afternoon to counteract people's natural dip in energy.
Having a well-lit space is also essential for health and safety, particularly for any kind of manufacturing or assembly work. But choosing good lighting for your workspace doesn't have to mean spending a fortune on the latest innovations in task and overhead lighting.
"Making the best of your available daylight can make a big difference to the quality of your workplace," says Mullvihill. "It's all about bringing the outside in and connecting people with nature when they're inside a building. Plants and daylight are two of the least expensive elements that can have a big impact on people's comfort."
5. Prioritising staff or customers?
Many companies will prioritise light-filled areas for their reception or meeting spaces so that visiting clients benefit. Mullvihill often encourages companies to take a different approach and plan their space to give the maximum number of staff access to daylight.
"If your workplace culture means having a façade for clients with staff hidden away, then you may be sacrificing productivity for a better public image," says Mullvihill. "Designing your space well is about making the most of your human resources and you're more likely to do that if you place more value on keeping staff happy."
6. Shared vs private spaces
How to find the balance between public and private workspaces is another dilemma most businesses have to solve. More and more companies are acknowledging that quality work can take place away from the desk and are creating flexible, shared spaces where people can work or take a break. Having some time away from the assembly line, phone headset or computer screen gives workers the chance to be with their colleagues face to face and feel like part of a team.
These breakout spaces bring other benefits too.
"It's a natural human need to have some control over our environment," says Mullvihill. "Whether that's a desk lamp for controlling your light or a choice of spaces to work in, it really gives people a sense of freedom in their workplace."
Making space for privacy is also important, as people sometimes need to work without interruption, even in the most collaborative work environments. Although much of his work relies on sharing ideas, Mullvihill still values the peace and quiet it sometimes takes to be productive.
Learn more about the ins and outs of commercial property with our free investment guide.
Creating a workspace that helps to increase motivation and productivity is important in any workplace. Our partners at

Oneflare

can connect you with an expert interior designer to effectively create the right atmosphere.
[dm-listing-recommendation experimentname='below-content-listings' positiononpage='belowContent']
Keep up with Commercial Real Estate news.
Keep up with Commercial Real Estate news.