Woorinen South VIC 3588
Approved greenfield horticultural development site
Land Agribusiness Water Development (LAWD) is pleased to present for sale Naranga (the Property), a 258* hectare greenfield horticultural development site located in the Sunraysia region, one of Australia's premium intensive horticultural regions.
Since acquisition (following an extensive asset identification and selection process), significant planning, approval and development has been undertaken to form a site capable to establish an investment grade horticultural development.
Key features of the opportunity include:
- 258* hectare greenfield horticultural development site with 225* hectares (87%) suitable for pistachio development.
- All necessary approvals, licences and permits in place to develop the property to high value horticulture.
- Independently assessed for suitability and arable area for a range of high value horticultural uses.
- Crop suitability assessments supported by detailed topographic survey and extensive soil - pitting and assessment.
- Situated within the Torrumbarry Irrigation Area with secure access to connect to the Woorinen Irrigation District pumped irrigation scheme, through land ownership and holding easements and licences with relevant authorities.
- Soils comprise predominantly mallee alluvial soils suitable for development to high value horticulture.
- Located in the Sunraysia region, adjoining and to the south-west of the township of Woorinen South and 12* linear kilometres north-west of Swan Hill.
- Benefited by a Mediterranean climate with an average annual rainfall of 329* millimetres (Bureau of Meteorology Pira Wild Horse Plains Station).
- Currently utilised for broadacre dry land cropping pursuits, including the production of high quality cereal, legume and oilseed crops.
LAWD is offering the Property for sale via Expression of Interest closing Thursday 25 November 2021 at 4pm (AEDT).
*approximately
Map for Woorinen South VIC 3588
Map for Woorinen South VIC 3588
More Properties for Sale from LAWD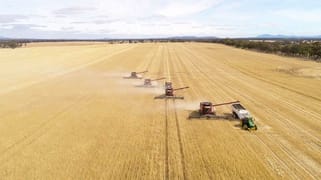 For Sale
EOI
0 corinella group portfolio, victoria & south australia,
lake bolac, VIC 3351