Kurrajong Park 873 Lindon Road Uralla NSW 2358
Large New England Holding - Established & Productive
Area:
Approximately 2,078ha / 5,135ac of freehold land.
Location:
"Kurrajong Park' is situated in the New England Region of Northern NSW. It is 45km South-West of Armidale, 26km West of Uralla and 110km North of Tamworth. Large scale breeding properties that offer the sought-after balance of scope and productivity do not often come up in such a central location. It is only a short drive to the historic township of Uralla and two of Northern NSW's major regional cities lye to the North and South being Armidale and Tamworth.
Accommodation:
Homestead - A large, very comfortable family home that was built in 1987 offers plenty of room and spectacular views of the valley is ready for either the growing, or established family. It offers 3 bedrooms, 2 bathrooms, 1 large office and an open plan living / dining area that includes a renovated kitchen. The large timber deck is perfect for entertaining or relaxing with the family and covered verandahs stretch the length of the home on both the Eastern and Western side. A 3-bay brick garage is situated alongside the house.
Managers Residence - A very well kept and neat 3 bedroom brick veneer house with bull nose verandahs and landscaped gardens would see a manager or employee very comfortable.
Infrastructure:
One of the many key features of Kurrajong Park, it boasts quality infrastructure. Sheds and livestock handling facilities are either new or have been rebuilt since the property was purchased in 2003.
- Machinery shed
- Workshop
- Feed shed
- Cattle yards
- Sheep yards
- Shearing shed
- Meat house
Fencing:
Kurrajong Park is currently sub-divided into 33 main paddocks with a central laneway running the length of the property with access to most paddocks. All fencing is either new or has been rebuilt since the property was purchased in 2003.
Fertiliser History:
An extremely strict fertiliser program has seen Kurrajong Park supered 17 of the past 18 years by air. Although the property is 5,135ac on paper, when the undulation is considered, the actual ground area is considerably larger and therefore enough fertiliser is spread for 6,000ac. Single super has been applied at 50kg p/acre and the current owner is going to spread another 300 tonne prior to auction.
Pasture:
The pastures are currently 100% native with the addition of clovers being oversown. The main species of native grasses are tall wheatgrass, sweet vernal grass, white and black spear grass, and wallaby grass. In addition to this, there are also approximately 12 subspecies. Arrowleaf clover and seaton park sub clover seed are mixed with the super and spread by air. The property was purchased in 2003 and this has taken place every year bar one since then.
Topography:
The entire property is currently utilised for grazing with Kurrajong park showcasing a variety of topography ranging from creek flats to soft undulating, lightly timbered country, with a small amount of steeper, heavily timbered area. The soil type is predominately red trap on the lower country and runs to red basalt on the tops. There is a small area of granite at the entrance to the property. Offering approximately 1,200ac of arable land allowing the opportunity to sow high performance pastures.
Vegetation:
Kurrajong Park is home to a good mix of native timber such as yellow box, gum, stringy bark and kurrajong. Paddocks have been selectively cleared and these well-established trees provide good protection for livestock without compromising the productivity of the property.
Rainfall & Water:
Kurrajong Park ranges from 700m - 1,100m above sea level and is situated in a reliable rainfall area which receives on average 775mm - 825mm (31" - 33") annually. There is 58 dams spread across the property which were all cleaned out in 2019. In addition to this, a very reliable bore is located near the homestead that provides water to both houses, sheds, cattle yards and the laneway. It is equipped with a 240V submersible pump.
Carrying Capacity:
A combination of fertiliser history, rainfall and management allows Kurrajong Park to conservatively run 800 breeding cows, plus their progeny. If further pasture improvement was undertaken, the current carrying capacity could be further increased.
Sale Information:
Online Auction - Thursday 9th December at 1.00pm
www.auctionsplus.com.au
Exclusive Selling Agent:
Nutrien Harcourts Armidale
Joel Fleming
0467 725 195
Map for Kurrajong Park 873 Lindon Road Uralla NSW 2358
Map for Kurrajong Park 873 Lindon Road Uralla NSW 2358
More Rural / Farming for Sale in Uralla NSW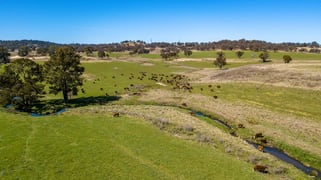 For Sale
EOI
paradise creek elsmore road,
inverell, NSW 2360