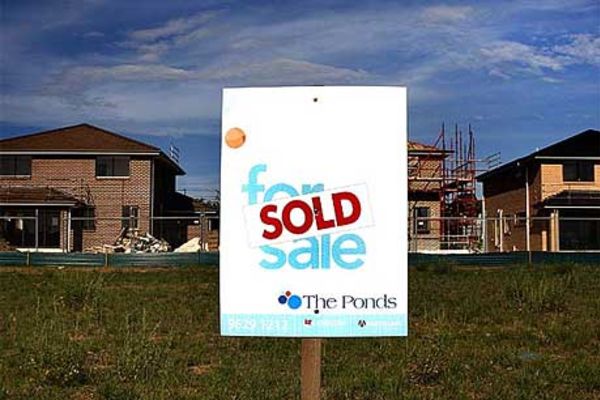 Sydney's inner west leads the rise in land values
Land values across the state are climbing - and the suburbs in Sydney's inner west are leading the charge.
The rise in property prices has flowed through to land values, helping to lift the value of all land across NSW to more than $1 trillion for the first time.
This values the state's land at five times the size of New Zealand's entire economy of $NZ207 billion ($190 billion).
The rise in land values reverses the broad decline of a year earlier, and further gains are expected this year as demand pushes property prices further ahead.
=
For some property investors, this may lift their land tax liability, and the rise may be taken into account by some councils when considering rates rises.
[dm-listing-recommendation experimentname='midcontent-listings' positiononpage='midcontent']
Amid buoyant demand for properties, Sydney's inner west has again been the focal point.
A year ago, the rise in residential land values in Sydney was led by Strathfield, followed by Marrickville. In the year just ended, the gains spread further west, with the once-unfashionable Auburn leading the way with a hefty 16.1 per cent rise. Suburbs such as Ashfield, Marrickville and, further afield, Ryde have also recorded big gains.
The inner west has been the clear leader in value rises for five years, reflecting lower property prices in that part of Sydney as well as a shift in preferences for greater access to the city centre.
Land values in Marrickville have risen a heady 30 per cent in the past five years, running ahead of Burwood at 27 per cent and Ashfield and Botany Bay at 25 per cent.
The swell has extended to Parramatta, which may largely reflect the fact its median residential land value is still well below $400,000, along with nearby Auburn.
"A lot of that is people who wanted to buy nearer to the city finding apartments too expensive and moving slightly further out for value," NSW Valuer General Philip Western said. "Auburn, for example, has a good mix of properties and affordability – it is at the lower end in terms of values – so it has moved ahead of the broader market."
And it has been a tale of two cities, with little overall movement in land values at the top end of the market. Signs of life in North Sydney, Waverley and Randwick have been offset by continued softness around Woollahra and Manly.
On the other hand, areas with lower land values are popular, which is why the inner west is so strong and there has been almost across-the-board rises in land values.
As a result, areas such as Auburn, which have good public transport links to the city and Parramatta as well as being adjacent to the M4 and James Ruse Drive, have benefited.
"It's been a very strong market," the principal of Starr Partners at Auburn Greg Okladnikov said.
"There are also hospitals, Olympic Park is in the neighbourhood and good local employment options. We're also seeing change. For example, in Lidcombe more cafes and restaurants are springing up and it is evolving as a suburb.
"A lot of our buyers were looking at Ashfield and Burwood but prices there are running ahead, so they're looking further west where there is still good transport links," Mr Okladnikov said.
"It has location but also access and infrastructure … access to schools and jobs.
"And the growth slated for Parramatta means the circle of suburbs around it will benefit as well."
The biggest rises were in the Brewarrina and the Central Darling council areas, where land values have doubled. But even with those rises, the median figures are only $13,000 for Brewarrina and $1200 for Central Darling. Coonamble recorded a 50 per cent rise to $21,000.
Prices in east heading south
Residential land values across the city may be rising but, at the pricey end of the market, values have moved little.
In Woollahra, land values fell another 3.1 per cent. But with a median of $1.23 million, they are still among the highest in town.
Mosman also fared well with the median land value rising 1.6 per cent to $1.3 million.
Woollahra median land values are down more than 10 per cent over the past two years and are well below the high of $1.47 million touched in 2007-08. In Mosman, the rise in prices over the past year reverses part of the 3per cent decline recorded a year earlier, giving it a clear lead over Woollahra.
Keep up with Commercial Real Estate news.
Keep up with Commercial Real Estate news.