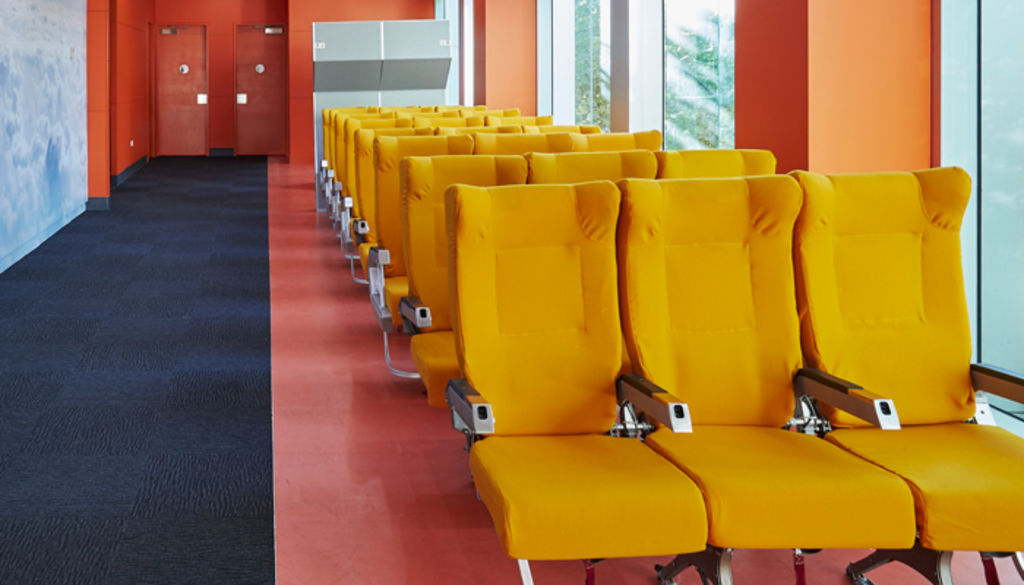 Step inside the spaces where the suite life is not as it seems
Melbourne architects Edwards Moore are renowned for inventive design solutions. Now they've put their sass into an educational setting, transforming the William Angliss Institute – a training centre for careers in food, tourism and hospitality – with four themed hotel rooms, a mock foyer and a pretend aeroplane aisle.
The brief was "to create a dynamic new concept for a training hotel facility" with teaching spaces across three floors on the Melbourne campus, explains architect Ben Edwards, co-director of Edwards Moore. The design and was planning completed in 2015 and cost about $350,000.
It may not be plane to see, but this aeroplane aisle is a replica. Photo: Fraser Marsden
Before the refurbishment, the spaces were functional and looking a bit dated: think tough commercial-grade carpet, paint in various shades of grey and simple furniture.
The students using the space include those enrolled in the Diploma of Hospitality and Bachelor of Resort and Hotel Management.
The 65 students in the first intake of the Angliss International Hotel School program are using the suites as part of their training. How to prepare a room, housekeeping and responding to guests are part of the curriculum.
Hotel lobby and reception desk
The hotel foyer suite showcases a sophisticated and moody ambience by architects Edwards Moore. Photo: Fraser Marsden
The reception counter and lobby are designed to mimic a five-star hotel with a lounge connected to hotel suites, as in a real hotel.
The aim was to shift the institutional ambience to one that is intimate and tactile with subdued light. The overall effect is of a smoky and relaxed atmosphere, like the environment of a sophisticated hotel, with custom lighting by Jonathan Ben Tovim and furniture across each level by Ross Didier.
Themed hotel rooms
Fun and colour in the Soho suite. Photo: Fraser Marsden
Lessons in contrast, the three themed hotel rooms are made to give students a feel for different levels and styles of hotel rooms.
Soho really pops. A super bright and fun space with yellow carpet and walls, it features a pink neon flamingo and neon pink accents making a nod to the burlesque.
Welcome to the Kyoto room, which is all about simplicity. Photo: Fraser Marsden
Kyoto suite contains a different world again. A muted Japanese interior is expressed through Shoji screens on windows and washed-out timber lining, making a calm and peaceful environment.
Brooklyn has a rougher edge generated by grey concrete colours and tougher finishes such as a metallic curtain screen, graphic print wallpaper and oriented strand board (OSB) joinery, an engineered wood panel product.
Business lounge
The business lounge suite performs double duty as a student study space. Photo: Fraser Marsden
Once an anodyne hallway, level three now contains the "business" lounge. And it really pops!
With Perspex pods carving out space for separate worktables, a bright yellow carpet and ceiling, it is also a vibrant study space for all the students.
Airline interior
Please fasten your seatbelts in the aeroplane aisle training suite. Photo: Fraser Marsden
Level two is a pretend plane interior and flight training facility. Travel and tourism teacher Steve Markotis says the space is much easier to use than his classroom because its dimensions mimic those in the aisle of an actual aircraft.
The former flight attendant who flew with Ansett and Qantas, teaches an introductory course about the airline industry.
Previously Markotis rearranged classroom chairs to mimic economy seats and used old Ansett chairs to represent business class. Happily, it's now first-class seats for everyone.