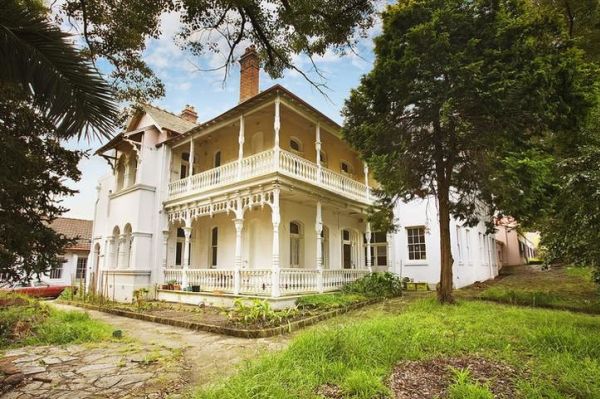 Caper Co-living set to open two properties in Sydney's Newtown and Petersham
Caper Co-living is gearing up to open its first co-living properties in Sydney's inner west by early next year, adding nearly 60 rooms to the emerging market.
The buildings in Newtown and Petersham will be operational in January 2019 and March 2019 respectively.
About $6 million was invested into the refurbishments of the two properties.
It will be the second and third co-living properties to be delivered in Australia, following the September opening of hotel group Veriu co-founders Alex Thorpe and Rhys Williams' first co-living property UKO in Stanmore, also in Sydney's inner west.
[dm-listing-recommendation experimentname='midcontent-listings' positiononpage='midcontent']
The King Street, Newtown, property (pictured pre-renovations) is set to open in January 2019. Photo: Supplied
The Newtown property, at 601 King Street, is on about 200 square metres and will have 16 studios across three storeys, with an additional level being added to the existing building.
The common areas will consist of a coworking space, communal kitchen facilities and a rooftop terrace.
Prices – which include utility bills, internet, coworking access, weekly cleaning and basic supplies such linen and kitchen utensils – start from $525 a week for a double studio and $550 a week for courtyard studios, on 12-month memberships.
Chrystan Paul, who co-founded Caper Co-living this year, told Commercial Real Estate that both properties had heritage characteristics, which added to their appeal.
"The Newtown property was more about immersing our members into the Newtown culture and designing the property to our exact specifications – which was easier with (the property in) Newtown, given it doesn't have as much heritage constraints as (the one in) Petersham does," he said.
Built in 1921, the second site at 2 Shaw Street, Petersham, will house 40 studios spread across four wings on the 2500-square metre corner block.
The property will also include four themed communal living and dining areas, a library with dedicated coworking space and a courtyard.
The building will have four pricing options, ranging from $430 a week for single studios, $450 for double studios, $475 for extra large studios and $525 for loft apartments.
"There is a distinct 'old world charm' feel with this (Petersham) property and we are excited to be able to have a new-age living concept like co-living be housed in a property like this, given it is nearly 100 years old," Mr Paul said.
All rooms in both sites will have ensuites and private kitchens.
Future strategy
Caper Co-living will add nearly 60 co-living rooms to the emerging market in the first quarter of 2019. Photo: Caper Co-living
Both properties are owned by private investors, who have joined forces with Caper Co-living to convert the buildings into co-living complexes.
"We're already working on activating other properties belonging to these same partners, as well as replicating this model with other property partners in Sydney and soon Melbourne," Mr Paul said.
He plans to integrate mixed-use commercial elements, especially hospitality, into all of the business's developments.
"I've found co-living works best in mixed-use developments, whereby rental income derived from co-living drives the majority of the revenue but there is also diversified revenue from commercial space," he said.
"In fact we see ourselves being able to expand into hospitality on the back of this strategy and operate our own venues within our future properties."
A major focus of Caper Co-living's properties is coworking spaces, which are free for the buildings' residents.
"This is a core part of our offering where we want to enable our members to be able to work from home should they need to," Mr Paul said.
"The key value to our members is providing them with a coworking space onsite and not having them spend on membership on a coworking space, meaning we're saving them money and strengthening our value proposition."
In the future, members will also be able to move between the company's co-living properties before their membership expires.
The rise of co-living in Australia
Caper Co-living will focus on hospitality and coworking in future projects. Photo: Caper Co-living
Mr Paul said he started the business as a 25-year-old who was "frustrated with the state of Sydney's (residential) rental market… allocating upwards of 30 per cent of my income to rental accommodation".
"Yet I strongly felt under-served and overlooked as a tenant, all while the actual rental properties remained unchanged despite all the technology available for disruption," he said.
The developer said while the sector had not gained traction until now because the market was "obviously coming off the peak of the cycle", co-living was "here to stay".
"I see a number of operators entering the space in Australia over the next 12 to 24 months," he said.
"In the long-term, I see co-living in Australia being dominated by operators that have achieved significant scale and have deep pipelines of properties to feed off as they come online… and there are only a small number of groups that will likely be able to achieve this."
Caper Co-Living director and co-founder Jonty Nel said they received strong interest from traditional property investors and those interested in market disruption.
"All appreciate the stable returns and strong cash-flows on offer from the co-living model against the backdrop of an increasingly uncertain Australian property market."
The company has a pipeline of six properties, three of which they own. Two of their other projects will be located in Sydney's Leichhardt and Camperdown.
[dm-listing-recommendation experimentname='below-content-listings' positiononpage='belowContent']
Keep up with Commercial Real Estate news.
Keep up with Commercial Real Estate news.